Most historians will agree that the Fokker DVII was the best fighter of the Great War. It is interesting to note, however, that it was neither the fastest nor the most maneuverable, nor did it possess the best rate of climb have the most firepower. The DVII's greatest strength was that it had no weaknesses. When American Ace Ray Brooks was given the opportunity to fly a captured DVII, he commented, "I'm glad the war quit when it did 'cause this DVII is a dandy; light and maneuverable, goes like the deuce and the motor is a dream."
It took more than the smooth, powerful, and reliable Mercedes to elevate the DVII to legendary status. If the motor was the heart of the design, the wing was surely its soul. Its strength was unparalleled -- so strong, in fact, that the outerplane N-struts were deemed unnecessary.
It did not take long for the Allies to recognize their formidable new opponent. In September of 1918, the French gave orders to their Spad-13 pilots to avoid combat with the Fokkers, as they were superior on all accounts except in dives. The DVII proved to be the culmination of Anthony Fokker's genius.
Over the past 30 years, we have received many requests to produce a wide variety of models. None has been asked for more often that the Fokker DVII. We were fortunate to have extensive research material to draw from for the project. This, combined with the original example in the Deutsche Museum in Munich, Germany, gave more than enough reliable material to produce the model. The team of Ed Newman, Jerry Holcomb, and Bob Sweitzer came together to produce an exceptional set of plans that could just as easily be framed and displayed in your living room.
Next, we drew upon our experience with the Fokker EIII in the construction of the fuselage. 5/16" maple dowel was again used to simulate the welded tubular steel framework. The multi-tapered and beveled scale wing spars were especially challenging. We found the solution this complex by programming it into a CAD (Computer-Aided-Design) system and milling it with a computer-controlled router. The wing ribs were done using the same method. Parts accuracy and quality are exceptional. This attention to detail carries over to the reproduction of the 180HP Mercedes engine as well.
All hardware is included and features operable brass turnbuckles, machined fittings, multi-strand rigging and control cables and scale hinge assemblies. The louvered engine side covers have been faithfully reproduced in aluminum, fully finished and ready for installation.
We have called upon 30 years of experience to give you our latest addition to the squadron. We think Mr. Fokker would be pleased!
Click here to see more Fokker DVII photos in the Photo Gallery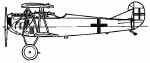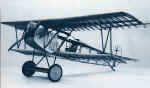 Click here to see more Fokker DVII photos in the Photo Gallery


KIT SPECIFICATIONS

Fokker DVII KIT #1900

Wingspan, Upper
88.00"
Wingspan, Lower
69.00"
Overall Length
69.00"
Overall Height
26.75"
Wing Area
2,056 Sq. "
Flying Weight
23 Lbs.
Engine (4-stroke)
2.00 Cu. In. or larger
Price
$925.95 US
# 207-56
Aluminum Disc Wheels
# 225
Covering (4 rolls needed)
# 351
Pilot
# 357
Pilot
# 259
Laser 200V 4-Stroke Engine
# 257
Laser 300V 4-Stroke Engine
# 113924
Windsock Datafile 9