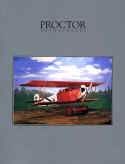 Our new catalog is now available. This is a "must-have" for any serious scale modeler. It's 52 pages containing lots of detailed information about our kits and other products. It also loaded with numerous photos, detailed construction drawings, specification sheets, and lots of interesting historical information about the full-scale airplanes that our kits are based on. There's also sections on our line of Laser engines, as well as engineering reference data sheets, and you'll find that our hardware and accessory selection is second to none.
This latest catalog has a number of noteworthy additions. The first is our new ¼-scale Fokker DVII. The DVII is our first museum-scale kit designed entirely on a CAD (Computer Aided Design) system. The wing design of this particular aircraft was quite complex, and the computer greatly simplified the task. Once the design was completed, we used the program to machine the wing ribs and spars using a computer-controlled router. All future Proctor and VK models will use this design system.
The second important addition comes to the VK line. It has been 27 years since the last VK World War One model was introduced. The decision to do the Sopwith 1-½ "Strutter" was an easy one when we received a call from Lucas Films. See the full story inside the new catalog!
The new Proctor Enterprises catalog costs only $7.00, which includes shipping & handling in the U.S. and this cost is deductible from your first kit order. (It's $10.00 US for international customers, including shipping & handling, and $7.00 of this cost is also deductible from your first kit order.) Click here for ordering information.